Running on sunlight alone, solar off-roader developed by a student team at Eindhoven University of Technology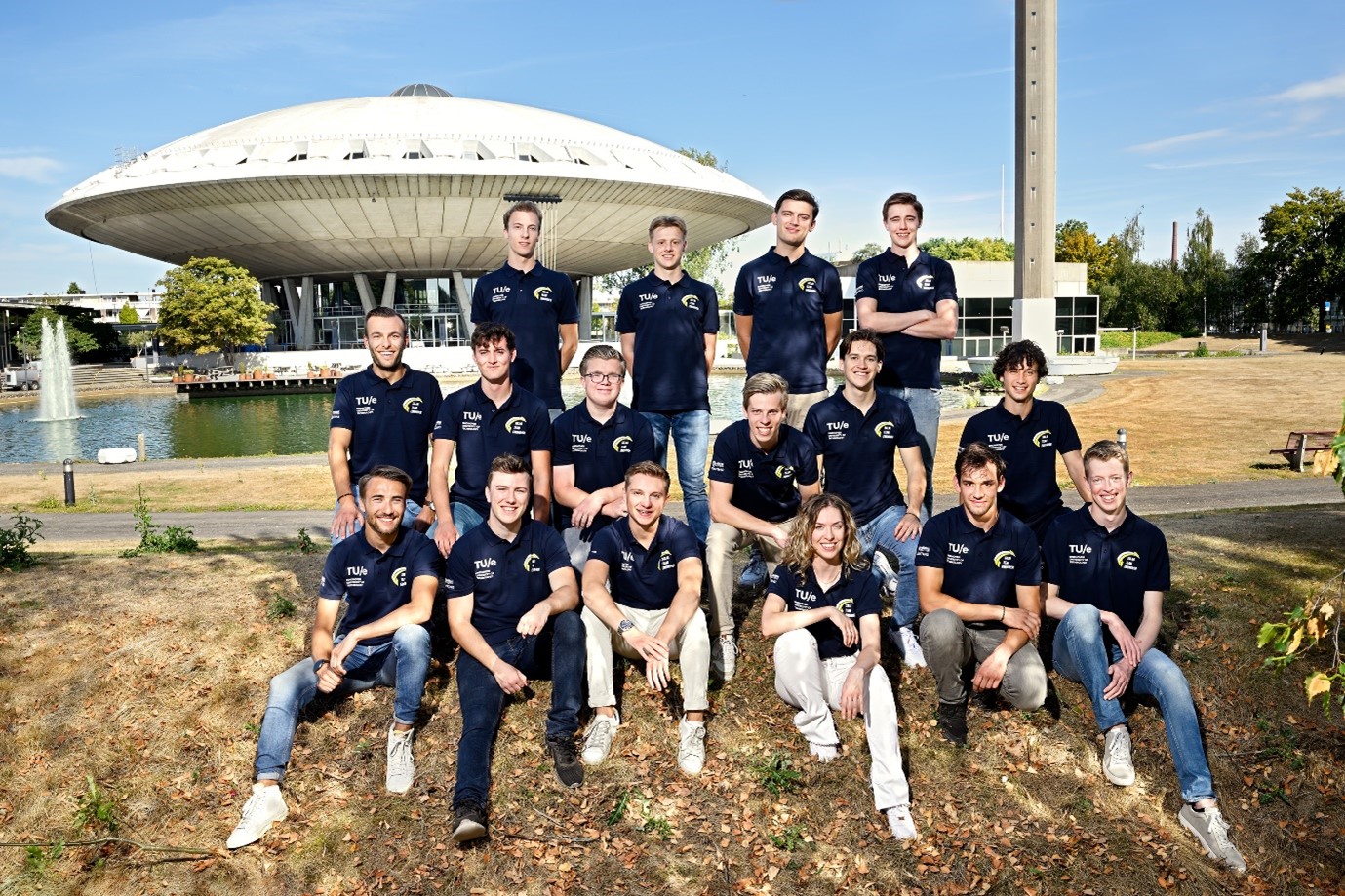 2022-23 team members. Students from various specialisations are brought together on a volunteer basis ©Bart van Overbeeke
'Solar Team Eindhoven', a student team from the Eindhoven University of Technology (TU/e) in Brabant, the southern province of the Netherlands works every two years on a project with the themes 'solar panels' and 'mobility'. Its latest project is an 'off-roader that runs solely on solar energy'. They developed a solar-powered car that can drive on middle of nowhere such as deserts where there is no charging infrastructure.

I spoke to Niek Boksebeld and Niels van den Broek, the team's Electronics Engineers, about the technology and team organisation that makes this ground-breaking innovation possible.
Winner of four consecutive Australian solar car competitions, now developing concept cars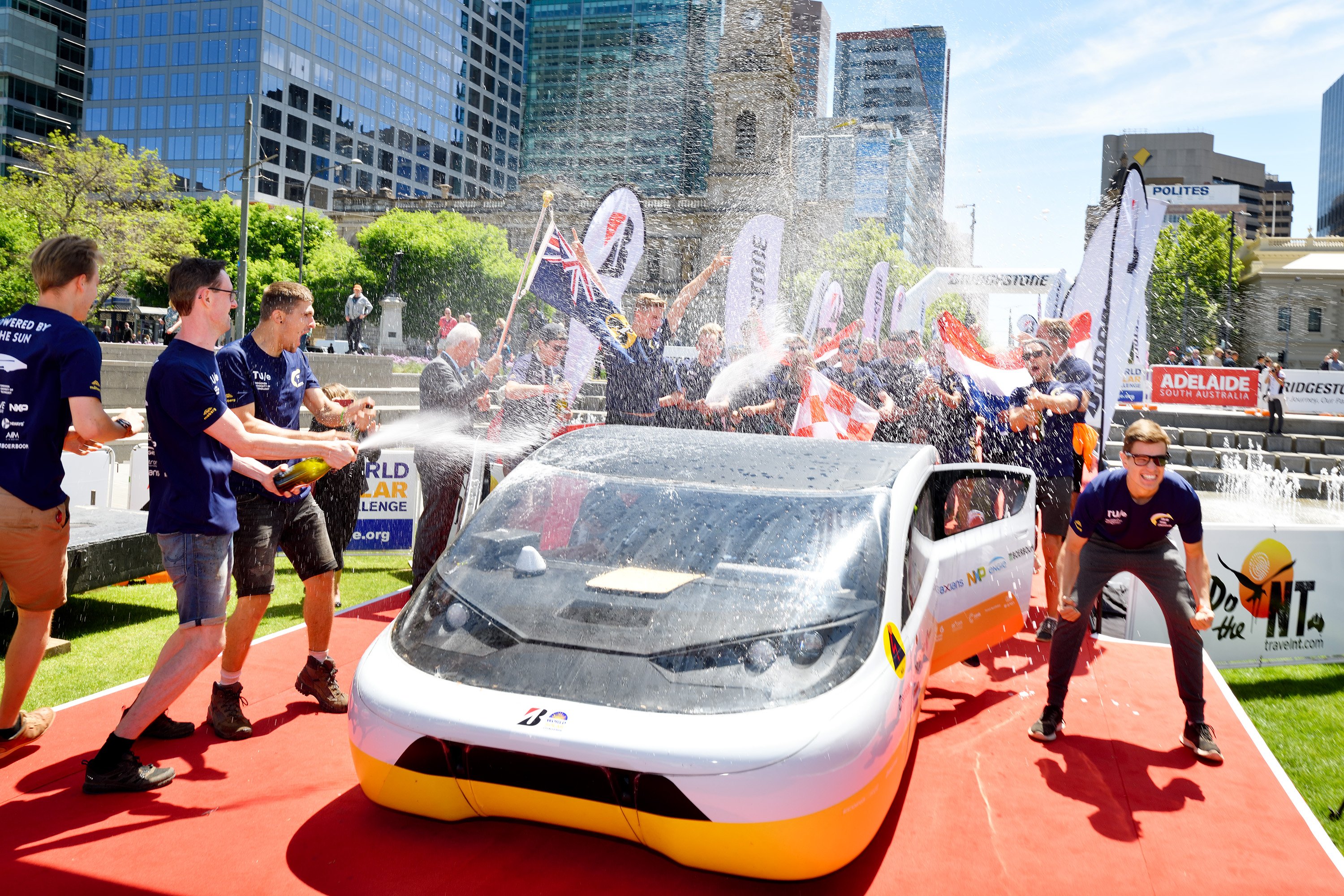 Members of SolarTeam Eindhoven celebrate their fourth consecutive victory in the 2019 'Bridgestone World Solar Challenge' competition, cruiser class ©Bart van Overbeeke
The current solar team consists of 22 students from Eindhoven University of Technology (TU/e). The team is formed every two years by a group of voluntary students, and until 2019 it competed in the biennial 'Bridgestone World Solar Challenge' in Australia. Since 2013, this Dutch team has won the 'Cruiser Class (family car category)' in the same competition four times in a row.

However, from 2021, the team is not participating in the competition and it has changed its policy to develop a concept car every two years.

'We were starting to do the same thing over and over again, so we thought we should do something different. The team's goal is to make the world a greener and better place. And to inspire people with new technologies" (Boksebeld).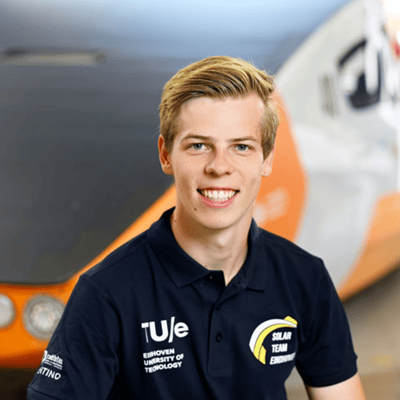 Niek Boksebeld, System Architect Electrical Engineering, Solar Team Eindhoven (Photo: Solar Team Eindhoven)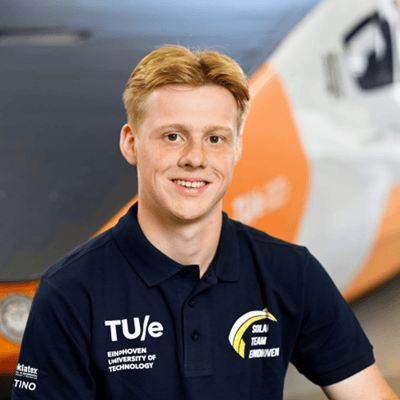 Niels van den Broek, Photovoltaics and drivetrain engineer, Solar Team Eindhoven (Photo: Solar Team Eindhoven)
Under the new policy, 'Stella Vita' was developed in 2020. The concept is a 'Self-Sustaining House On Wheels', which not only runs on solar energy, but also allows people to live off of solar energy as well.

This year's project, 'Stella Terra', was launched in 2022 by a new team and is was just unveiled on 14 September this year.

'Stella Terra' which was presented on Sep 14, 2023 ©STE/Bart van Overbeeke
The key for the solar off-loader is efficient use of solar energy
'You can't get petrol or electricity everywhere, but the sun is everywhere and gives freedom to mobility. We make more freedom by developing a solar off-roader that can run on sunlight alone, even where there are no roads."

According to Boksebeld, the focus of the Stella Terra was to make the most efficient use of solar energy for both on-road and off-road driving. When driving off-road, such as on sandy terrain, the vehicle consumes much more energy than on a normal road.

Van den Broek, who is responsible for the control converters between the solar panels and the motors and batteries, explains.

"We take the right amount of energy from the solar panels at the right time and transfer it through the wheels as efficiently as possible. When you ride a bicycle, you downshift in the sand, but when you get back on the asphalt, you need to upshift. It's the same sort of thing"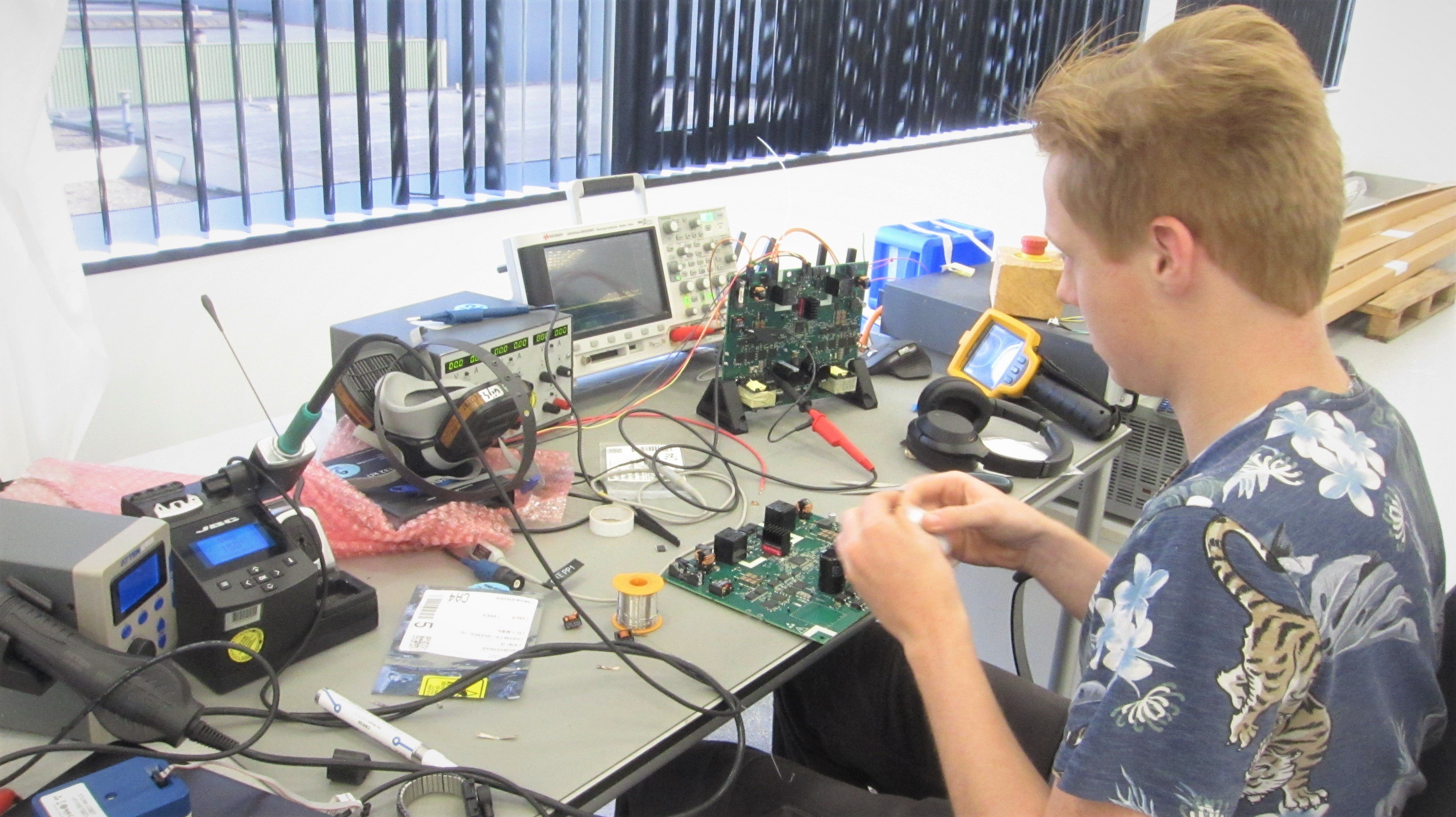 Van den Broek creates smart converters to take and transfer energy from solar panels as efficiently as possible at any given moment ©Naoko Yamamoto
For energy efficiency, the materials and weight in all parts of the vehicle were reduced, and the vehicle body was shaped to minimise aerodynamic drag. The vehicle also has a high minimum ground clearance (distance between the vehicle's base plate and the ground) for off-road driving, and uses tyres optimised for off-road use.

The battery capacity is 50 kilowatt-hours, with an expected range of 500 km on a full charge without sunlight on public roads. The maximum speed of the vehicle is around 145 km/h, and they obtained number plates so that the vehicle can be driven on public roads.
Secrets of the innovation team
The Solar Team, which has produced a series of ground-breaking solar cars, is an organisation that is completely independent of universities and companies even though they are funded by them. The students take a break from university while they work on the projects and pour all their energy in it. During the project, they receive no hourly wage and no university credits. However, being independent gives them a lot of freedom.

"No one tells us what to do. We decide everything ourselves. Only the students who are highly motivated and passionate get together and enjoy working together towards the same goal. There is no hierarchy within the team and no filter between what you can and can't say. We have a very open culture that doesn't exclude any impossible ideas" (Boksebeld)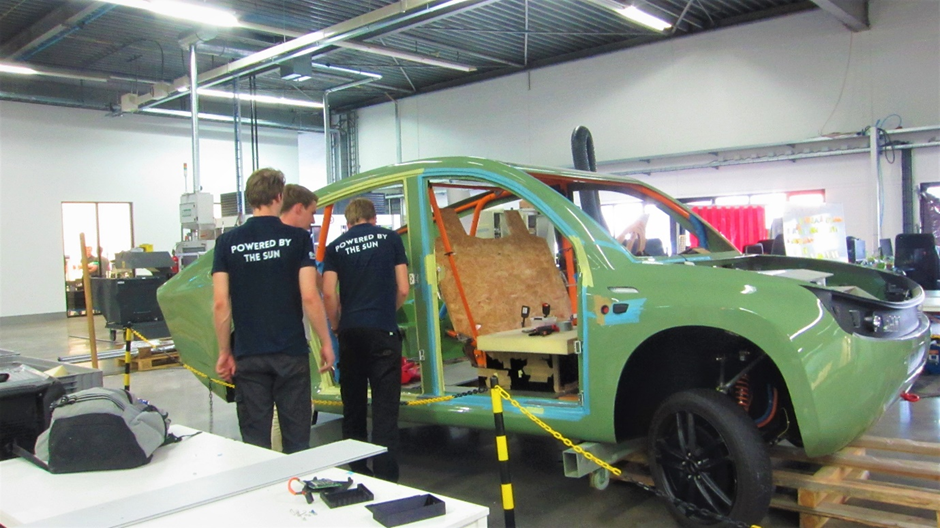 The manufacturing site of Stella Terra ©Naoko Yamamoto
After this successful project, Boksebeld said that in addition to designing and building the solar car, he has learnt things he would not have expected from his university studies alone, such as team building, role allocation, schedule management, liaising with partners and public relations. Van den Broek also said, "After this new challenge, I feel more confident"

In October, Stella Terra will run in the Moroccan desert. Then, in November, Boksebeld and Van den Broek will visit Japan to present details of Stella Terra at the 'Brabant Innovation Days' at the Hotel Okura Tokyo on 29 November. It will be a great opportunity for Japanese people to experience the innovative ideas of Dutch students!

Contact: info@solarteameindhoven.nl