Minimizing hospitalization: Medical wearables and smart sensor mat that enable home health monitoring were developed in the Netherlands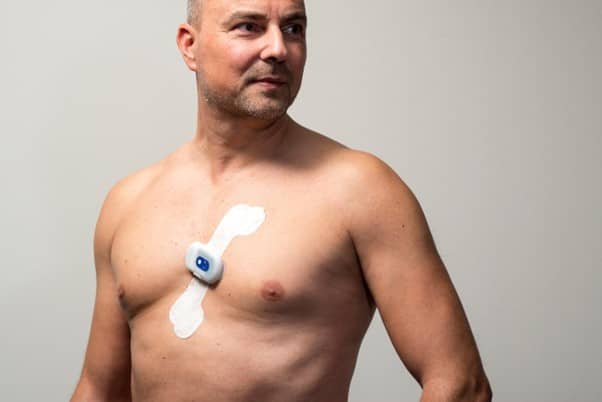 Health patch platform developed by TNO Holst Centre. It is possible to measure electrocardiogram, heart rate, respiration rate in a home setting, and monitor the data from the hospital.
Just by sleeping in your bed at home, your health data such as the breathing rate and the heart rate will be sent to the hospital, and a doctor will diagnose you remotely-- the world of Science fiction is becoming a reality.
"Health patch" that patients can attach to their bodies and "smart sensor mat" that can be embedded in beds and chairs have already been developed, enabling continuous remote monitoring of various vital signs.
The technologies of these new devices are developed by R&D institute called "TNO Holst Centre" based in Brabant, the southern province of the Netherlands. Using flexible electronics and wireless sensor technology, they aim to build human-centered and cost-effective next-generation medicine.
Following are the technology platforms of the Holst Centre that can be applied to a variety of products.
Development accelerated due to corona pandemic, "Health patch" enables telemedicine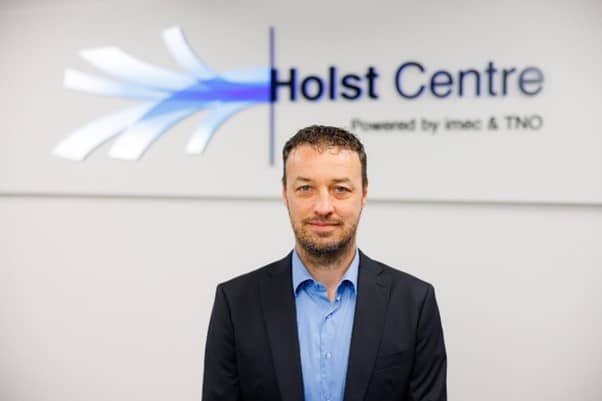 Ton van Mol, Director of TNO Holst Centre
"What we can contribute is to introduce technology that keeps people out of hospital as long as possible", Ton van Mol, director of the Holst Centre explains the role of the institute in the next-generation medicine.
"Hospitalization is the biggest burden among medical expenses. So if we can decrease the time people spend at hospitals, that can reduce a lot of medical costs. And if you don't have to be hospitalized, that is more comfortable, isn't it?", says van Mol.
Health patch was developed under this vision. Deployed with the batteries and sensors, it is stretchable and water-resistant, ultra-thin sheet that patients can wear directly on their skin. It can be used continuously for up to 14 days, thanks to the dry electrode technology. Sensors measure electrocardiogram (ECG), breathing rate, heart rate, etc., and the system can wirelessly transmit the data to e.g., the hospital platform.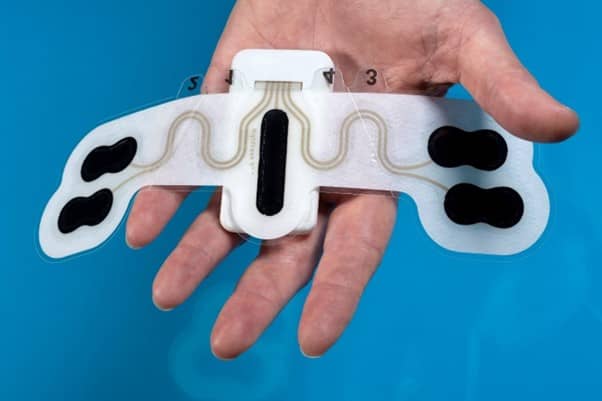 Electrodes and circuits are printed on the back of the health patch.
"It can be used for pre-operative examinations and post-operative follow-up observations. This will greatly reduce the time patients spend in the hospital and have an impact on medical costs. What is more, taking the continuous data is more reliable than the stressful, one-shot measurements in hospitals" (van Mol).
This technology has already been applied by the Dutch electronics manufacturer Philips, and a product called "Healthdot" was born.
In 2021, it was used in domestic hospitals to measure and monitor the health data of COVID-19 patients at home. According to Philips, the certification of the sensor was prioritized due to the pandemic. At the time, the hospital capacity was tight, and this technology was of great help in securing the number of beds and reducing the burden on the medical personnel.
According to van Mol, the health patch platform can currently measure ECG, heart rate, and breathing rate, but within two years, they plan to implement innovative sensors to measure core body temperature and blood oxygen concentration. It is also possible to customize it according to the needs of the company or organization that will use this technology.
"That is why this health patch is a platform, not a single product. For example, the number of batteries on the patch will change depending on the period of time the data will be monitored. Also, depending on the disease, what is measured and the frequency of the measurement will change, and the design of the patch will be different. It leads to the personalization of medical care" (van Mol)
A bed that monitors your health while you sleep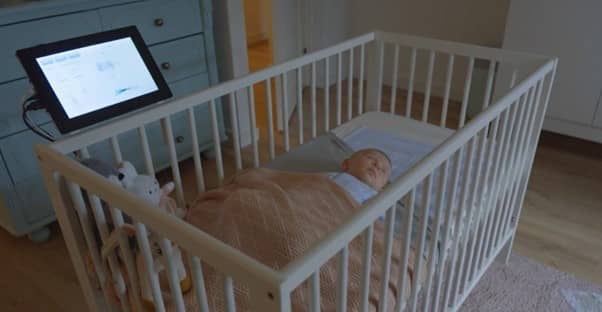 The smart sensor mat can be applied to baby beds. (From Holst Centre video )
Another technology platform developed by Horst Center is the "smart sensor mat". This is a sheet with sensors printed on a thin elastomer (material with rubber elasticity), and can be integrated in various things such as beds and chairs. Currently, it is possible to measure breathing rate, heart rate, and sleeping posture.
"The sensors are very sensitive and can detect signals even when the patient moves. It doesn't need to be put on the body, so it is more comfortable and they can be monitored in a non-intrusive manner" explains Ashok Sridhar, senior business development manager and start-up specialist.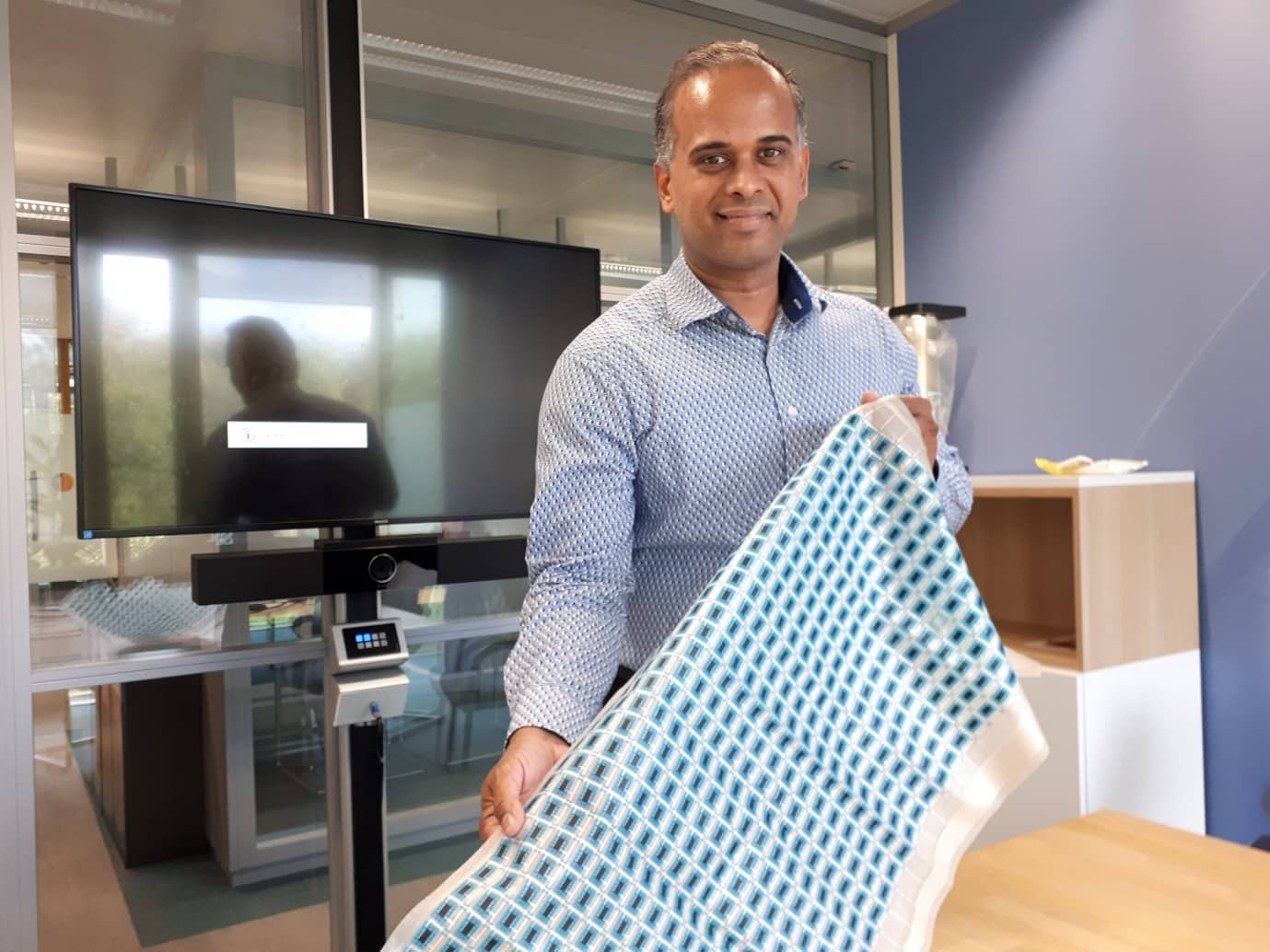 Ashok Sridhar holding a smart sensor mat
According to Sridhar, it was applied by a Dutch company to a bed for monitoring patients with sleep apnea, a condition in which breathing frequently stops for more than 10 seconds while sleeping, and the product is currently in clinical trials.
In addition to adult beds, smart sensor mats can be also applied to baby beds, office chairs, and car seats. The sensors can detect the posture and alertness of the drivers or the workers who sit on the same position for a long time, and signal the need to change positions or get up and exercise.
Even in the coming autonomous driving era, this technology will be essential because drivers need to pay attention even when they do not operate themselves.
"If there are companies that want to make products out of it, we can support them with our accumulated know-how. Similar to the health patch, we can adjust the type and number of sensors to be printed according to their use." (Sridhar)
Personalize medicine with a 3D printer
Holst Centre is also working to personalize medicines through its subsidiary TNO (Netherlands Organization for Applied Scientific Research). They are developing a special 3D printer that can customize the production of medicines.
"It can release the right amount of materials at the optimum timing in the body and create the right shape. Because it's really digital, it's possible to create medicine per person. The first case we are looking into together with the domestic hospitals is medicine for children. The weight of the patient is an important factor in determining the dose of the medicine, but currently, the size of the medicine is not compatible with the varying weight of children aged 0-12 years. What is happening now is that the nurses cut the medicine with knives for them" van Mol explains.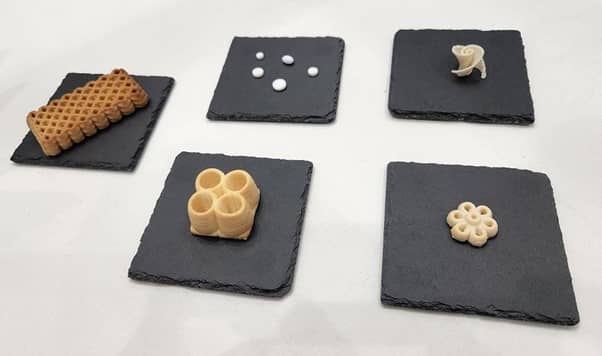 Medical pills and snacks made with a 3D printer developed by TNO (Photo: Midori Inako)
Another use of the printer is for food. It is adaptable for those who need to personalize their diet, such as adding specific nutrients. In this project, they are collaborating with Wageningen University, which is world-famous for food research.
"Right combination of materials, right taste, and right texture with consistent quality…making food with a 3D printer is not easy. Here is our knowledge of equipment, process techniques and materials brought together", Sridhar says.
Support for Japanese companies is also possible, the next challenge is "ultrasound imaging"
Holst Centre was founded in 2005 by TNO and the Belgian research institute imec as a R&D institute for microelectronics. With their expertise in printed & flexible electronics (utilize transformable electronic circuits) and wireless sensor technology, they create innovative technologies for to a sustainable society, including medical care, energy, and mobility.
The Holst Centre's business model is to share these technologies with client companies and support them in developing new products and production technologies. "In that sense, we are more service organization", said van Mol.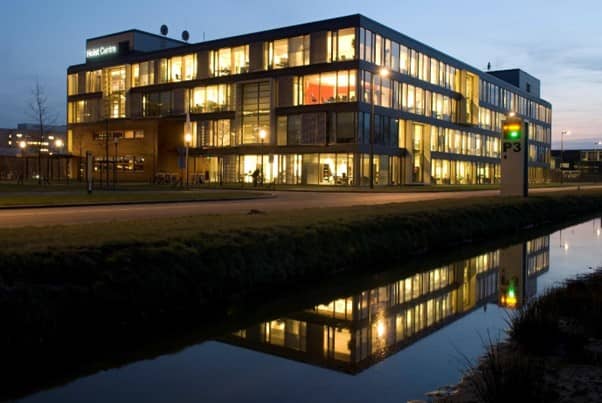 Holst Centre is located in the "High Tech Campus" in Eindhoven, where many high-tech companies and research institutes are based.
With 180 employees from 28 countries, the center currently partners with 56 companies/organizations and carries out 45 long-term projects. Those fields are wide-ranging, but currently they are particularly focused on the next-generation medical technologies mentioned above.
"Japan has the longest life expectancy in the world, but at the same time, there are not enough healthcare workers to support the aging population. Our vision fits very well with the "Society 5.0", a new human-centered society that is initiated by the Japanese government" (van Mol)
The next technology platform they are challenging is ultrasound (echo) imaging. The goal is to be able to take ultrasound images with patches attached to the body and eventually monitor them. For example, continuous observation of blood vessels with ultrasound would help prevent many diseases.
Would you like to take on the challenge of next-generation medical care together? For the companies that want to apply Holst Centre's technology to products, organizations that want to adapt their technology platforms to the Japanese market, or organizations that want to work on technology development together to solve problems, Holst Center is ready to support. Please contact the email address below.
連絡先:Ton van Mol, Holst Centre Director
High Tech Campus 31,
5656 AE Eindhoven