10,000 times faster manufacturing process of Next-gen semiconductor; "Impulse Printing" enables high volume printing on 3D surfaces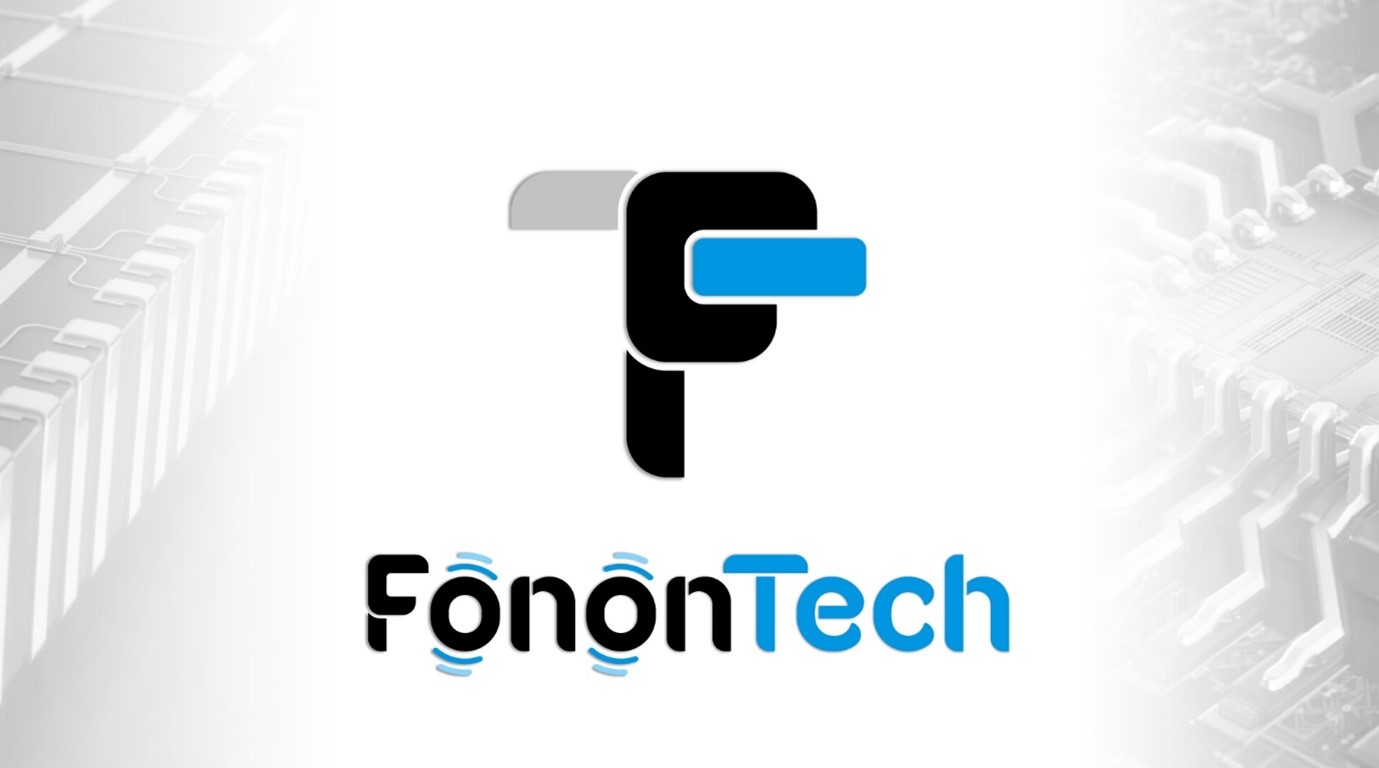 As our electronic products, such as smartphones and medical devices, become smaller and more multifunctional, the semiconductor industry is moving to "advanced packages" that place more components in a smaller space. These packages, which integrate multiple semiconductors in a 3D arrangement, are currently made by wire bonding, in which wire is connected one by one with needles, making high-speed mass production difficult. However, FononTech from Brabant, the southern province of the Netherlands has developed a revolutionary printing technology called "impulse printing" to solve this problem.
Printing fine lines on complex 3D surfaces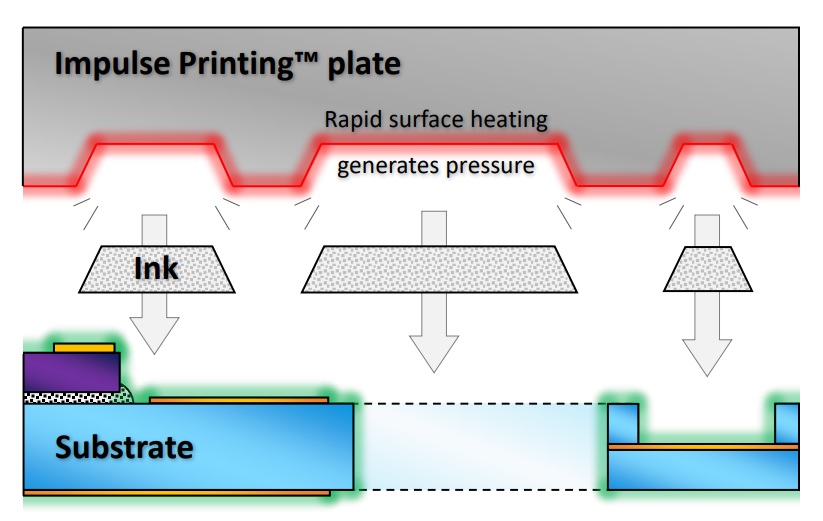 With impulse printing, a pattern is printed on a substrate by the instantaneous ejection of ink on a heated plate (Source: FononTech)
The impulse printing technology developed by FononTech is a new printing technology that uses rapid electrical heaters. Ink is applied to a 'source' plate, which is then instantly heated to spurt the ink and transfer the pattern on the plate to a 'destination' substrate.

As it is a non-contact printing method, any pattern can be transferred onto any type of substrate. For example, printing lines directly on complex 3D surfaces using conductive ink. This is a feat that could not be accomplished with conventional contact printing methods. Moreover, it can instantly print large quantities of fine lines at the micron level (1/1000 of a millimetre), and importantly, any type of ink can be used

"The micron-sized electrical connections required for chips with complex 3D structures can be made instantly using our printers. The speed will be 10,000 times faster than current wire bonding processes," explains Rob Hendriks, co-founder and CEO of FononTech. The high speed of the process will enable the mass production of next-generation semiconductors and open the door to a variety of next-generation products.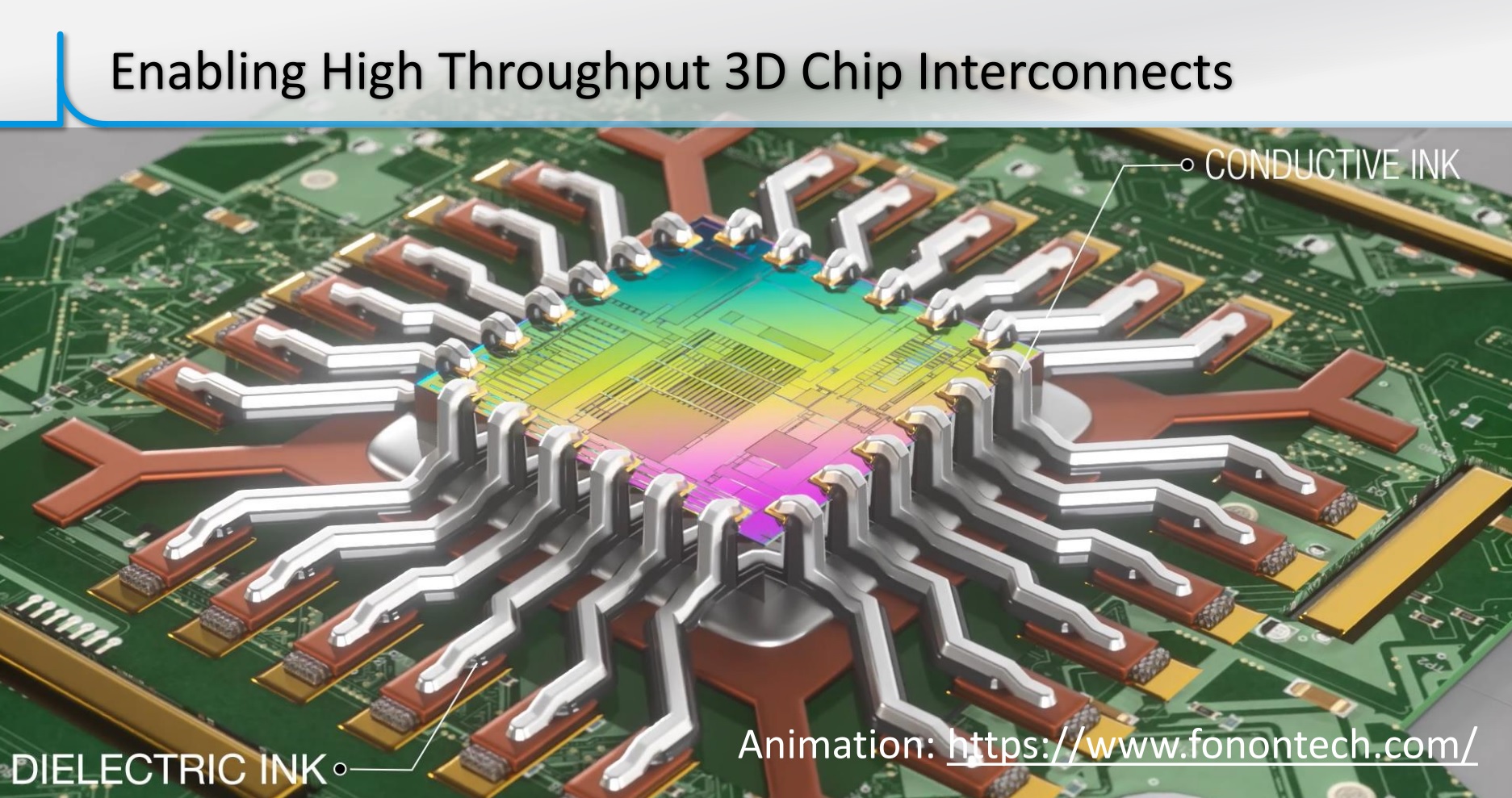 FononTech printers can print micron-sized lines directly on semiconductors with conductive or dielectric inks in complex 3D structures (Source: FononTech)
Application to the large displays
Impulse printing can also be applied to OLED and micro LED displays. Currently large displays are made on one big panel, and if a part of it fails, the entire panel has to be disposed. Whereas, if small panels are attached together to make a large display, it is cheaper and making less waste, because the only the failed panel can be replaced.

When small panels are combined, the lines of electrical connections between panels have to be invisible. With the company's printers, the conductive ink that makes the electrical connection between the front and the back side of the panels can be printed around the edges of the panel. Because they can be printed all at the same time, the throughput of a single Impulse Printer can reach over 100,000 lines per second.

In addition to semiconductors and displays, the print technology has potential for many other applications.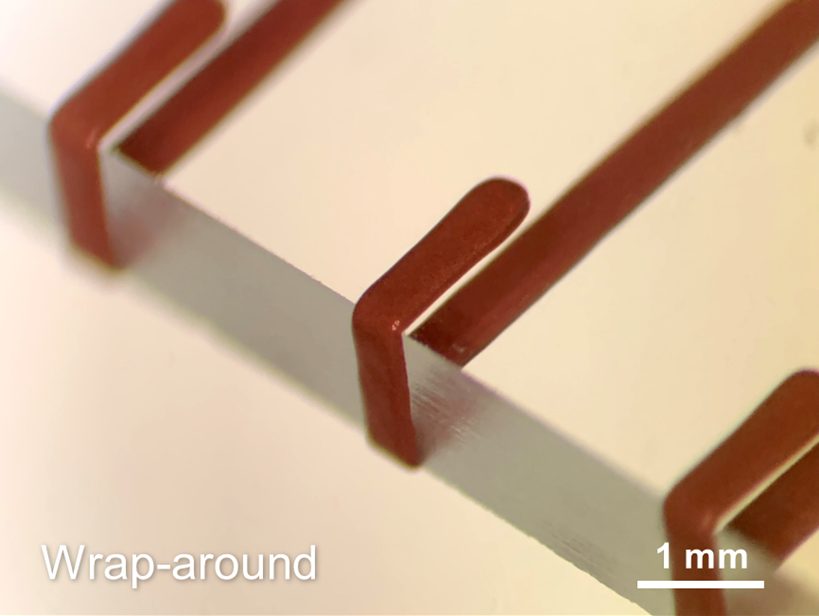 Conductive ink printed around the edge of the glass panel (Photo: FononTech)
Sustainable printing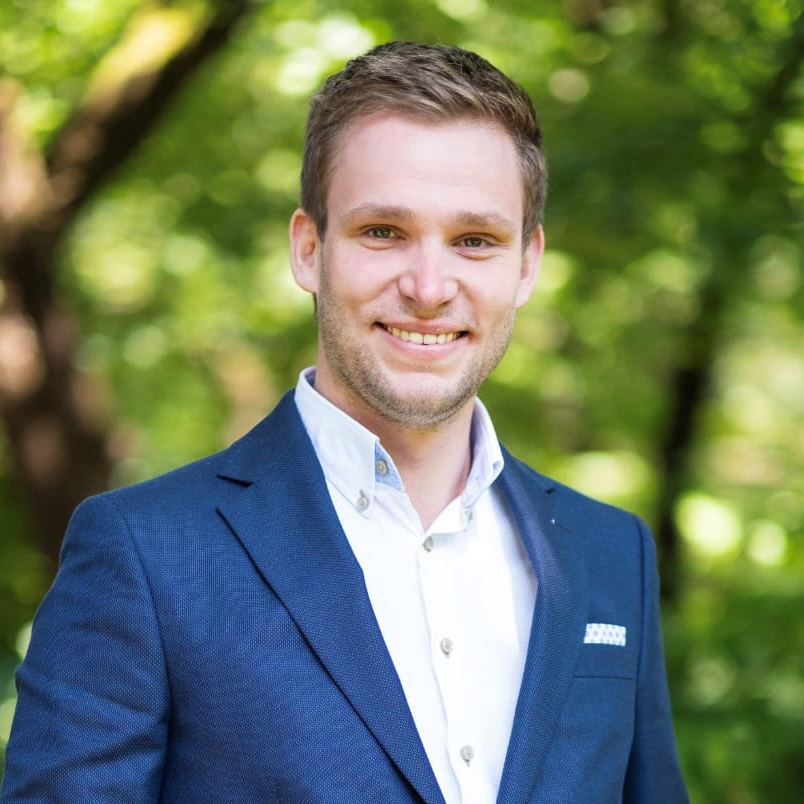 Rob Hendriks, co-founder and CEO of FononTech (Photo: FononTech)
Impulse printing is more sustainable than traditional printing methods using lithography. Unlike the printing method using lithography, where the substrate is firstly coated with material and then etched with chemicals to remove unused parts, impulse printing adds only what is needed, resulting in less waste. According to Hendriks, this effectively reduces carbon emissions by 1,000 times.
A spin-off from TNO Horst Centre
Inpulse Printing was created by integrating new ideas with the know-how of the TNO Horst Center, a research institute based in Brabant. Following the pilot 'Impulse Alpha Tool', FononTech is now developing and building the 'Impulse Beta Tool', an industrial R&D tool for selected customers. It will be launched on the market in November 2023, and first delivery is scheduled in Q2 2024.

In order to show the impulse printing in action, a 'demonstration kit' was also created, containing the printing equipment in a small box case. In addition to the Netherlands, it has already been shown in the USA and Taiwan, where it attracted a great deal of attention. It will also be on display at the 'Brabant Innovation Days' in Tokyo on 29 November this year. Hendriks says: "Please come and experience the magic of Impulse Printing".

Contact: Contact — FononTech

'Impulse Alpha Tool' printing machine for application development